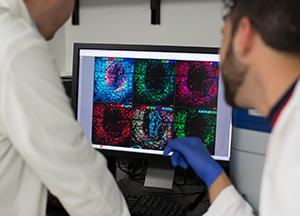 Through the Human Phenotyping Core (HPC), investigators can perform and analyze high-dimensional cytometry, single-cell proteomics for functional response assays, molecular phenotyping by transcriptomics, and high-throughput testing of soluble biomarkers. All data generated through the HPC using samples from the Clinical Characterization and Biorepository Core (CCBC) will be incorporated into the ORDRCC data warehouse, providing a rich resource for identifying new directions for research and generating new ideas for future collaborative projects.
The HPC supports investigators by providing the following:
Tailored assistance in project development, experimental design, resource planning/budgeting, and data analysis, depending on need
Access to cutting-edge, high-throughput technologies to facilitate molecular phenotyping for precision medicine approaches and the ability to perform personalized profiling for optimal subsetting of patients and improved study designs
Immediate access to experts in the field of

Proteomic

and

Transcriptomic

approaches for consultation to ensure data quality control, processing of raw data, and preparation of data sets for more extensive analysis and statistical modeling
For more information about the HPC, or to schedule a consultation for your project, please contact Joel Guthridge, PhD.