Center Investigators 
There are four types of Center Investigators who can obtains support through the ORDRCC.  One is for established Center Investigators (CI) who already have independent funding in rheumatic diseases research. A second level is New Investigator (NI) who are new to rheumatic diseases research, but who have already established an independent research career.  The third level of investigator is Junior Center Investigators (JCI), those who do not have prior significant independent research support, but have completed post-doctoral training and have established a significant publication/scientific track record. The fourth level of investigator is Early-Stage Scholars (ESS) that are identified as promising recent professional program graduates that are very early in post-doctoral research or clinical training. ESS can be considered for either the Reichlin Scholar (for clinical researchers with MD or MD/PhD) or Capra Scholars (for basic science researchers with PhD or MD/PhD).
To be considered for appointment as an ORDRCC Investigator, the following steps must be taken: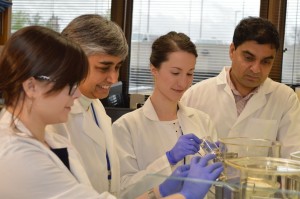 The investigator must be nominated by members of the ORDRCC External Advisory Committee, Core Directors or the Section/Department Head.
Each nominated individual must provide a NIH style biosketch and letter of support from the nominator.
The applicants are evaluated by the External Advisory Committee (EAC) and selected based upon:

Prior accomplishments
Interest in Rheumatic Disease Research
Potential for success as an independent scientist in Rheumatic Disease Research

The applicants who utilize ORDRCC resources or pilot grant funds meet with the EAC to discuss the project and career directions during annual EAC meetings.
Once selected, the ORDRCC Investigators will be able to access all services provide by the ORDRCC including:
Project and Career Mentoring
Career Development advice and training opportunities
Grant application and publication support
Access to the ORDRCC Core Facility Services