ORDRCC investigators fall into two categories: Junior and Established Investigators.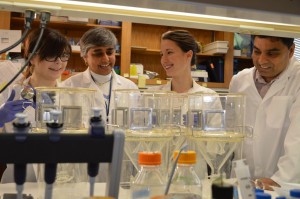 Junior Investigators are those in the field of rheumatic disease research who have yet to secure large independent grant funding (NIH R01).
There are numerous resources available for Junior Investigators to facilitate successful career establishment through the ORDRCC, including Scholar Programs and Pilot Study funding.
Established Investigators are those who have previously been awarded grants funds but who have elected to change their research to the area of rheumatic disease.
To be considered for appointment as an ORDRCC investigator, the following steps must be taken:
The investigator must be nominated by members of the ORDRCC Executive Committee, Core Investigators, or the Investigator's Section/Department Head.

Each nominated individual

must provide

an NIH style biosketch and letter of support from the nominator.

The applicants are evaluated by the Executive Committee and selected based upon:

Prior accomplishments
Interest in rheumatic disease research
Potential success as an independent scientist

The applicants meet with the Executive Committee to discuss the application and project and career directions.
Once selected, the ORDRCC Investigators will be able to access all services provided by the ORDRCC, including:
 Project and Career Mentoring
 Career Development advice and training opportunities
 Grant application and publication support
 Access to Core Facility services